Thu., March 15, 2012, 3:56 p.m.
Steam Plant Changes Interior, Menus
The restaurants inside the landmark Steam Plant recently announced changes to the interior decor, menus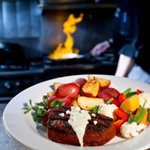 and even names. Updates to interiors of the restaurant and pub formerly known as the Steam Plant Grill were completed recently, and there are new names for the restaurant, microbrewery and pub housed in the historic complex. The full-service restaurant is now known as Stacks at Steam Plant and it is led by chef Barry Matthews, who is exercising some new culinary freedom over the offerings. The menu features regional and local ingredients, as well as meats, fish, cheese and vegetables smoked on-site using a variety of fruit and hardwoods. Beer brewed by the Steam Plant Brewing Co. is also a featured ingredient/Lorie Hutson, Too Many Cooks. More here.
DFO: Steam Plant is one of my favorite places to hang out for microbrew and hors d'oeuvres in downtown Spokane late in the afternoon.
Question: What downtown Spokane eatery is your favorite?
---
---