Sat., March 17, 2012, 12:31 a.m.
MC: Pestocrats Won One More Round
This dismantling of two cranes in Lewiston last week and the dismantling of jobs make a fine metaphor for the state of the economy in the Age of Obama. Megaload opponents celebrated a victory last week, which is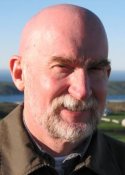 anotherway of saying that the local economy lost. The last megaload heading up U.S. Highway 95 passed through Moscow Tuesday. And environmentalist puritans were celebrating. Not so long ago, the Lewiston-Clarkston Valley was eagerly looking forward to handling hundreds of "megaloads," that would be shipped up the Snake River, unloaded at the Port of Lewiston and transported over Lolo Pass on U.S. Highway 12. Today they're hoping for six. Regardless of what route the megaloads take, the ultimate destination of all this oil extraction equipment will be the Canadian tar sands. But who needs oil?/Michael Costello, Lewiston Tribune. More here.
Question: Are you glad/mad the megaloads have stopped for now?
---
---