Sat., March 17, 2012, 12:33 a.m.
Washington Solider Suspected In Killings
Attorneys John Henry Browne, right, and Emma Scanlan, second from right, talk to reporters Thursday in Seattle. Browne and Scanlan will be representing a U.S. soldier accused of killing 16 Afghan civilians. (AP Photo/Ted S. Warren)
After five days cloaked in military secrecy, the U.S. soldier suspected in a massacre of 16 Afghan civilians has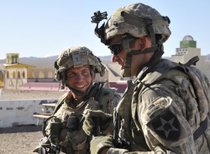 been identified as a Washington state father of two who underwent anger management counseling a decade ago after an arrest for assault on a girlfriend. The soldier accused in the killings is Army Staff Sgt. Robert Bales, 38, (above left) his lawyer confirmed Friday. Bales is from Lake Tapps, Wash., a community set amid pine trees surrounding a reservoir about 35 miles south of Seattle. Bales is married, a father of two young children who was in the midst of his fourth tour in a war zone. Neighbors described him late Friday as good-natured and warm, and recalled seeing him playing outside the family's modern split-level with his children, ages 3 and 4/Adam Geller, AP. More here.
Question: What should be done with this soldier, if found guilty of these killings?
---
---