Mon., March 19, 2012, 8:12 a.m.
Hucks: Caucus Disillusions Ron Pauler
National Libertarian blogger Lew Rockwell tells of the plight of an unnamed supporter of Ron Paul who attended the maligned Kootenai County Republican presidential caucus – the one at the Coeur d'Alene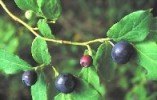 Resort. Seems the Ron Pauler became distressed as evening stretched into morning during the seven-hour marathon. He watched with excitement as Paul won caucus vote after caucus vote at the resort, only to trail and finally lose to Rick Santorum countywide. Mitt Romney, of course, won Idaho's 32 delegates as a result of all those votes from Mormon Southern Idaho. The Ron Pauler smelled a conspiracy. He told Rockwell: "To say I've lost some faith in the system isn't accurate, since I never had much to begin with. But I am tired and discouraged, and am more convinced than ever that we the people have no real voice in this process." What now? The Ron Pauler told Rockwell he plans to write in Paul's name for president "or vote straight Constitution Party"/DFO, Huckleberries, SR. More here.
Question: Have you been disillusioned by the political process?
---
---