TUESDAY, MARCH 20, 2012, 8:39 A.M.
Racist Winkler Explains Sheriff Run
Shaun Winkler wants to be the Bonner County Sheriff and took some time Monday to explain why. Winkler was out Monday afternoon mixing with the public and talking about his campaign goals like cracking down on drug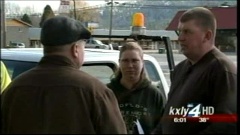 crimes and sexual predators. "I believe it's about time that we have a strong law enforcement stance against certain criminals in our neighborhood," said Winkler. He also thinks federal agencies like the FBI shouldn't have jurisdiction at the county level. The 33-year-old runs a landscaping business and doesn't have any law enforcement background. ... A check of his court records, however, reveals he was convicted in 2004 on charges of witness intimidation. But, because he satisfied all the terms of his judgment, he is clear to run for office/Anusha Roy, KXLY. More here. (KXLY photo)
Question: Should Bonner County Republicans take a stand against Winkler running as a Republican?
---
---