Tue., March 20, 2012, 2:47 p.m.
What Will Butch Do w/Ultrasound Bill?
In a column, Dan Popkey/Idaho Statesman tells how Gov. Butch Otter has given in to his Libertarian side at times in the past on such things as the Patriot Act. Two years ago, however, Otter allowed the "health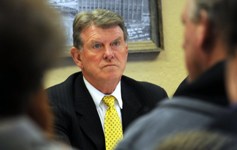 conscience" bill (which allows health care professionals to refuse to provide services they consider morally objectionable) to become law without his signature. Now, Popkey wonders, which Otter will be present when the pre-abortion ultrasound bill hits his desk: "Otter, a Catholic, is a longtime foe of abortion, though he's not made it a high-profile issue. I can't predict what he'll do, only that he'll struggle with his choice. Otter genuinely loves the U.S. and Idaho constitutions, which invest chief executives with the veto power to regulate the excesses of legislative majorities. We'll soon know whether Otter's faith trumps secular principle and warrants the state ordering doctors to engage in the rudest of intrusions on personal liberty." More here. (AP photo: Gov. Otter in Wallace Jan. 23)
Question: What do you think Butch will do when this Bill hits his desk?
---
---