Wed., March 21, 2012, 8:16 a.m.
Aspirin A Day Keeps Cancer Away?
Many doctors recommend that patients take a daily dose of aspirin to reduce their risk for a future heart attack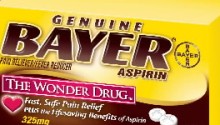 or stroke. Now three new studies suggest taking the cheap powdery pill every day can also reduce a person's risk for cancer, or prevent the disease from getting worse in patients who already have it. The studies, all led by Professor Peter M. Rothwell, a professor of clinical neurology at the University of Oxford in the U.K. are published in the March 20 issue of The Lancet and The Lancet Oncology/Ryan Jaslow, CBS News. More here.
Question: Do you take an aspirin daily?
---
---