Wed., March 21, 2012, 5:15 p.m.
Bounty Scandal Leads To Suspensions
The NFL imposed some of the most severe penalties in pro football history Wednesday when Commissioner Roger Goodell suspended three New Orleans Saints coaches and the team's general manager for operating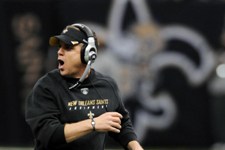 and tolerating a bounty system that paid players for hits that injured opponents. But the Washington Redskins escaped punishment, at least for now, when the league also announced that it had found no evidence to corroborate allegations that a similar bounty program existed between 2004 and 2007, when Gregg Williams, the man at the center of the Saints' bounty program, coached for Joe Gibbs. A person familiar with the case said the NFL's active investigation of the Redskins was closed, but left open the possibility of reopening the probe should new information surface/Washington Post. More here. (AP file photo of head coach Sean Payton, who was suspended for a year by the NFL)
Question: What do you make of the bounty system used by the New Orleans Saints to injure opposing players?
---
---