Wed., March 21, 2012, 8:44 a.m.
Court Sides With Priest Lake Couple
A Priest Lake, Idaho, couple has prevailed in a property rights case involving the U.S. Environmental Protection Agency. The U.S. supreme Court today ruled in favor of Mike and Chantell Sackett, ruling they can go to court to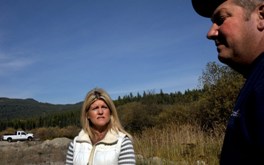 challenge an EPA order that blocked construction of their new home and threatened fines of more than $30,000 a day. The Sackett's property has sat undisturbed since the EPA ordered a halt in work in 2007. The agency said part of the property was a wetland that could not disturbed without a permit. In an opinion by Justice Antonin Scalia, the court rejected EPA's argument that allowing property owners quick access to courts to contest orders like the one issued to the Sacketts would compromise the agency's ability to deal with water pollution/SR & AP Wire. More here. (Kathy Plonka SR file photo: Chantell and MikeSackett talk about their battle with the Environmental Protection Agency over their right to build a home on a lot near Priest Lake)
Question: Do you support this decision?
---
---