Wed., March 21, 2012, 8:19 a.m.
Employers Want Your FB Passwords
Studies have shown that Facebook can be a useful hiring tool. Just a 5- to 10-minute perusal of a user's profile can net more information than a basic personality test. It's no wonder employers head to the site to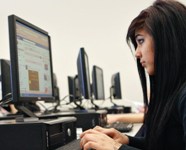 check out prospective hires. But one problem remains: Many users are now going private, cutting off their profiles from outside viewers. As a result, a new trend has emerged. Employers are reportedly now asking job applicants for Facebook passwords. Is this a good idea? Can you legally ask a job applicant for a Facebook password? Even though law professor Orin Kerr considers the practice to be "an egregious privacy violation," it appears to be legal/Stephanie Rabiner, Reuters. More here. (AP file photo: A Kennewick teen reads her Facebook wall in the local library earlier this month)
Question: Would you provide your Facebook password to a prospective employer, if asked to do so?
---
---