Wed., March 21, 2012, 9:34 a.m.
Jimmy-Mac Heads Excel Foundation
As a student, Jimmy McAndrew, a 1997 graduate of St. Maries, never gave much thought to school budgets. "When you're a student, you have no idea what goes on behind the scenes," he said. "Idaho, though, has had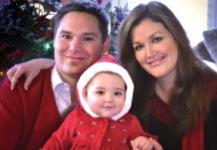 its share of budget cuts and funding restraints." Mr. McAndrew is the president-elect of the Excel Foundation, which supports teachers in the Coeur d'Alene School District 271 with grants to pay for innovative classroom projects. He will serve the organization as president starting next year. "I've been with the organization for three years, but the Foundation itself has actually been around for 25 years," Mr. McAndrew said. The organization awarded $70,000 to teachers last year. "We actually just gave away our millionth dollar this year," Mr. McAndrew said/Summer Crosby, St. Maries Record-Gazette. More here. (St. Maries Gazette-Record photo: Jimmy, Julie & Grace McAndrew)
Question: Anyone want to join me in giving J-Mac a shout out?
---
---