Wed., March 21, 2012, 1:25 p.m.
SiJohn Tabbed As New Tribe Top Cop
The Coeur d'Alene Tribe recently named Cody SiJohn as the new Chief of Police for the Coeur d'Alene Tribal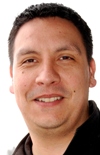 Police Department. Since 2007, SiJohn, an enrolled member of the Coeur d'Alene Tribe, has served as a Training Sergeant for the Bureau of Indian Affairs (BIA) United States Indian Police Academy at the Federal Law Enforcement Training Center, Artesia, New Mexico. While working for the BIA, SiJohn received training and instructor certifications in Law Enforcement Instruction, Use of Force Instructor, Driving Instructor, Firearms Instructor and Less Than Lethal Ammunition Instructor and Backcountry Tactics and Tracking Instructor. From 2008 to 2009, SiJohn was detailed to the Federal Law Enforcement Training Center, instructing newly hired Federal Officers assigned to U.S. Border Patrol, Federal Air Marshals, U.S. Fish & Wildlife and U.S. Park Police/Coeur d'Alene Tribe news release. More here.
---
---