Thu., March 22, 2012, 9:35 a.m.
Edit: College Loans Will Cost You
There seem to be fewer reasons for graduating seniors to consider college a good investment. College students now graduate with an average of $25,000 in debt, find it difficult to secure a job that pays enough to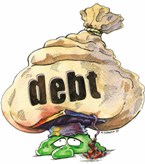 manage that debt - or find a job at all - and increasingly find that a bachelor's degree is no longer enough to secure a future for themselves. A master's degree is now preferred, which further entrenches students in more debt - around and around we go. But since there wasn't enough discouragement to go around in this economy, unless Congress acts, the interest rates on federally guaranteed Stafford loans will double from 3.4 percent to 6.8 percent July 1. That may not sound like much compared to 14-percent to 30-percent interest rates for credit cards, but the difference between 3.4 and 6.8 when it comes to a $23,000 student loan can work out to about $11,000 more over a 20-year life of the loan/Kelcie Moseley, Moscow-Pullman Daily News. More here.
Question: Is a college education still a good investment?
---
---