Thu., March 22, 2012, 1:04 p.m.
Honor Flight Could Be Grounded
Tony Lamanna, Inland Northwest Honor Flight's director, greeted the guests at the Pearl Harbor event at Spokane Falls Community College with grim news. The future of the program is in jeopardy due to lack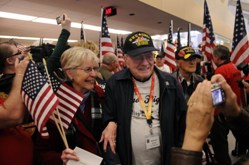 of funds. Inland Northwest Honor Flight takes local war veterans to Washington, D.C., to visit memorials honoring their service and sacrifices. Since 2009, 403 area veterans have made the trip, courtesy of the program. "We have lost the free tickets from Southwest Airlines," Lamanna said. "Southwest is still giving tickets to Honor Flight, but Honor Flight is only giving those to new hubs just starting out." The decision was made at the national level/Cindy Hval, SR. More here. (2011 SR file photo: Dan Foster, who flew in World War II, Korea, the Cuban Missile Crisis and Vietnam, is greeted with cheers Sunday at Spokane International Airport after enjoying Honor Flight trip to Washington)
Question: Do you know someone who has used the service of Honor Flight?
---
---