Thu., March 22, 2012, 1:15 p.m.
Johnson: Mitt's Real Problem
Typically in politics the most painful wounds are self-inflicted. Candidates shoot themselves in the foot and hobble around for days trying to change the subject, while the political media, the opposition and YouTube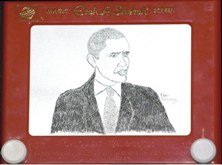 repeat the gaffe over and over again. Rick Santorum had his shoot the foot moment with ill-considered remarks on college and contraception. Newt Gingrich went into the high weeds with his colony on the moon moment. Barack Obama had his "cling to God and guns" diversion in 2008. GOP front runner – and I say again, almost certain nominee – Mitt Romney's gaffes have been so numerous it can be difficult to keep them straight. He likes to fire people, the wife has two (2) Cadillacs, he isn't a NASCAR fan, but knows rich guys who own racing teams, etc. Romney has a strange – and I'm sure to him mind boggling – ability to step on his own good news/Marc Johnson, The Johnson Report. More here. (Photo: A Nov. 5, 2008, AP file photo shows an Etch A Sketch portrait of President Elect Barack Obama, that was unveiled as the results of the presidential election were announced. Etch A Sketch is suddenly drawing lots of attention, thanks to a gaffe that has shaken up Mitt Romney's campaign)
Question: Do you have a favorite presidential candidate gaffe?
---
---