Thu., March 22, 2012, 8:45 a.m.
Reuters Weighs In On Sheriff's Race
The 33-year-old is running for sheriff in Bonner County, Idaho, despite his affiliation with the Aryan Nation and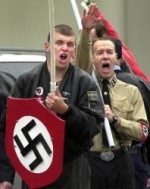 the Church of Jesus Christ-Christian. He calls himself a "concerned citizen," and believes law enforcement isn't doing enough to combat drugs and sex offenders. He also claims he won't discriminate on the job. Whether or not voters will believe Shaun Winkler remains to be seen, but some question whether he should even be able to run for office. He's an admitted white supremacist running for a law enforcement position. That's got to be illegal, right? Wrong. There's nothing illegal about a white supremacist sheriff candidate/Stephanie Rabiner, Reuters. More here. (SR file photo: Bonner County GOP sheriff's candidate Shaun Winkler, left, at a neo-Nazi march on Sherman Avenue)
Question: Isn't it nice to know that the Bonner County sheriff's race has gotten the attention of international media organization Reuters?
---
---