Fri., March 23, 2012, 9:40 a.m.
CMR: No Republican 'War On Women'
For weeks, President Obama, Democratic activists and their friends in the media have relentlessly pushed the idea Republicans have launched a "War on Women." After weeks of this carefully orchestrated campaign, the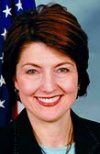 consensus among administration officials and Beltway insiders is clear: Women are outraged by Republican policies, the GOP has done enormous damage to its brand among women and the Democrats are going to reap the benefits at election time.If you're David Axelrod or Debbie Wasserman Schultz, it's a great story. But is it true? The Washington Post has no doubt. A few days ago, they ran a story titled "Recent debate over contraception comes as GOP loses gains among women." And the story is filled with quotes and anecdotes about how knuckle-dragging Republicans have badly damaged themselves by daring to stand up to the latest Obamacare mandate. But what are the facts? What does the polling actually say?/Congresswoman Cathy McMorris Rodgers, R-Washington. More here.
Question: Do you believe Republicans have launched a "War on Women"?
---
---