FRIDAY, MARCH 23, 2012, 11:52 P.M.
Idaho Hikes Bag Limit On Wolves
The Idaho Fish and Game Commission raised the bag limit on wolves and set spring chinook fishing seasons at its meeting in Boise Thursday. Commissioners approved a department proposal to raise the wolf hunting bag limit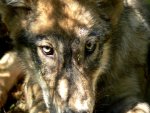 to five per calendar year, and the trapping limit to five per season in the Panhandle and Clearwater regions. But the commission also decided to extend the higher bag limits to hunters and trappers in the Middle Fork Zone. Jeff Gould, chief of the Idaho Fish and Game Department's wildlife bureau said earlier this week, the goal of the higher bag limits is to allow skilled hunters and trappers to help the state achieve its goal of shrinking wolf numbers, reducing predation on elk herds and lessen conflicts with livestock. He said allowing more wolves to be killed will reduce the population but not put it in jeopardy. ... There were more than 1,000 wolves in Idaho prior to the start of the 2011 hunting season. A population survey compiled by the Nez Perce Tribe and IDFG estimated there were at least 746 wolves in the state at the end of the year/Eric Barker, Lewiston Tribune. More here.
Question: Are you comfortable that Idaho is managing its wolf population well?
---
---