Fri., March 23, 2012, 8:25 a.m.
Sen. Winder Lands In 'Doonesbury'
Idaho Sen. Chuck Winder has landed in Garry Trudeaux's "Doonesbury" Web page "Say What?" feature. Dan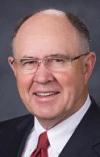 Popkey/Idaho Statesman writes: "Winder, the sponsor of the stalled ultrasound mandate measure, Senate Bill 1387, is quoted in the comic strip's online "Say What?" feature. Winder's statement in Monday's Senate debate on the bill has made him an international object of derision. "I would hope that when a woman goes in to a physician with a rape issue, that physician will indeed ask her about perhaps her marriage, was this pregnancy caused by normal relations in a marriage or was it truly caused by a rape." I spoke with Winder, R-Boise, on Thursday, who is chagrined by all the attention and saddened that it may have contributed to the sidetracking of his bill in the House. More here.
Question: At this point, what would you do if you were Chuck Winder?
---
---