Sat., March 24, 2012, 12:05 a.m.
Lawyer: Trayvon's Killer Denies Racism
Declaring that "if I had a son, he'd look like Trayvon," President Barack Obama chose a highly personal way to join the heated national debate over the death of Trayvon Martin, the black teenager shot to death by a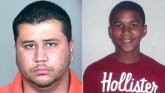 neighborhood watch volunteer in Florida. Obama took care to voice no opinion on the conduct of the shooter, George Zimmerman, or any legal aspect of the case beyond a call for a thorough investigation. "The attorney general reports to me, so I've got to be careful about my statements to make sure that we're not impairing any investigation," he said. Yet his remarks Friday could have a powerful influence on how the public views the case. It was a rare White House moment – a president identifying himself with a victim in a racially charged shooting. More broadly, it drew attention to the way young black men are seen by a predominantly white society/Christi Parsons, Tribune Washington bureau. More here. (AP photos: George Zimmerman, left, confronted Trayvon Martin late last month that lead to a shooting that sparked a heated race debate)
Question: How will this tragedy play out?
---
---