MONDAY, MARCH 26, 2012, 8:26 A.M.
Court Hears 'Obamacare' Arguments
With demonstrators chanting outside, the Supreme Court began hearing arguments today on the fate of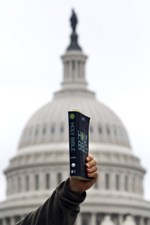 President Barack Obama's historic health care overhaul, no less controversial two years after Democrats pushed it to passage in Congress. Twenty-six states are leading the legal challenge, while Republican presidential candidates are vowing to repeal it after throwing Obama out of office. The law, much of which has still to take effect, would require almost all Americans to obtain health insurance and would extend coverage to more than 30 million people who now lack it. The law would be the largest expansion in the nation's social safety net in more than four decades. The nine justices began hearing arguments a little after 10 a.m. EDT/AP. More here. (AP photo: A bible is held in the air on the eve of the Supreme Court arguments on President Obama's health care legislation)
Thoughts?
---
---