Mon., March 26, 2012, 8:33 a.m.
MJ: Remembering Clancy Standridge
More than 20 years ago I was on the way home from a trip to Washington, D.C. with Clancy Standridge, who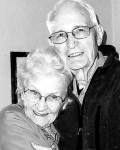 was for many years the legislative liaison and a top political confidante of my old boss Idaho Gov. Cecil D. Andrus. It was late, the flight had been a long one, we were a little grumpy and tired from a series of those non-stop and not very productive meetings you often have in the nation's capitol. As we stumbled up the long concourse in the Salt Lake City airport headed for the connecting flight to Idaho, handsome, debonair Clancy offered up an observation I have found myself repeating ever since. "This time of day," he said, "your shoes feel like they are on the wrong feet." Everyone laughed and the ordeal of getting home suddenly didn't seem so onerous. That was Clancy Standridge. Anyone who was around the Idaho Statehouse during the late 1980′s and early 1990′s will remember white haired, well-tailored Clancy Standridge who died recently in Portland, Oregon at age 84/Marc Johnson, The Johnson Report. More here.
Thoughts?
---
---