MONDAY, MARCH 26, 2012, 1:11 P.M.
SR: Caustic Wit Enlive 'Pete 'N Keely'
Showmanship and swingin' music flourish in Lake City Playhouse's "Pete 'n' Keely." Cabaret singer and local theater veteran Abbey Crawford directs and performs in this entertaining production of James Hindman,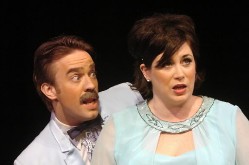 Patrick S. Brady and Mark Waldrop's well-received off-Broadway musical. Crawford reunites with musical director Carolyn Jess; the two were also part of the Actors Repertory Theatre's production of this show in Spokane in 2008. Set in a glitzy NBC studio in 1968, the show follows famous singing duet Pete Bartel and Keely Stevens – once "America's swingin' sweethearts," now bitterly divorced – as they attempt to restore their showbiz careers and reunite for a live television special/Tracy Poindexter-Canton/SR. More here. (2008 SR file photo for illustrative purposes, of Spokane Falls Community College performance of "Pete 'n Keely)
Question: Which play did you last see at the Lake City Playhouse? How would you rate LCPlayhouse plays?
---
---