Wed., March 28, 2012, 8:22 a.m.
Ichiro, Ackley Lead M's In Opener
Ichiro Suzuki racked up four hits -- including an RBI single in the 11th inning -- as the Mariners' right fielder had a homecoming to remember in a 3-1 victory for the Mariners in the first game of the Japan Opening Series with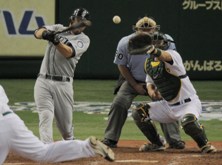 the A's on Wednesday. Second baseman Dustin Ackley drove in Seattle's other two runs with a home run in the fourth and the go-ahead single in the 11th, while Felix Hernandez pitched eight innings of one-run ball. "More than the four hits, it was more being able to enjoy the atmosphere with the fans," Ichiro said through interpreter Antony Suzuki in the cramped Tokyo Dome visitor's clubhouse. "Being there with the same feelings, that was special to me. That's what will stay in my heart"/Greg Johns, MLB.com. More here. (AP photo: Dustin Ackley hits an RBI single in the 11th inning of their American League season opening MLB baseball game at Tokyo Dome in Tokyo today)
Question: How does it feel, Seattle fans, for your beloved Mariners to have the best record in Major League Baseball (1-0)?
---
---