Wed., March 28, 2012, 9:10 a.m.
LeFavour Runs For Congress
Nicole LeFavour knows what it's like to fight incredible odds. LeFavour, Idaho's only openly gay legislator,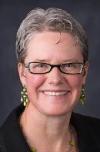 gave copies of the movie "Brokeback Mountain" for Christmas to 60 fellow members of one of the most conservative legislatures in the nation and pushed in vain a bill to ban discrimination based on sexual orientation. "Watching good people get hurt is something you can only be a part of for so long," she said. Now, LeFavour is leaving the state Senate in frustration. She's taking on Idaho Republican Rep. Mike Simpson, a well-funded veteran congressman of 14 years who has never had even a close race for re-election. No Democrat has held the congressional seat since Richard Stallings, who is LDS like many of his constituents, left office in 1993/Dan Popkey, Idaho Statesman. More here.
Question: Wouldn't Sen. LeFavour have better served her party & constituency by staying in the Idaho Legislature, where she has a voice, than attempting a quixotic race against Congressman Mike Simpson?
Question:
---
---