Thu., March 29, 2012, 1:13 p.m.
Labrador Praises Mom For His Start
From Labrador spokeswoman Ellen Carmichael: Congressman Labrador just spoke on the floor of the U.S. House of Representatives during the budget debate. In his speech, Congressman Labrador detailed his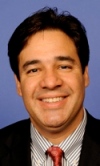 upbringing in Carolina, Puerto Rico. Raised by a single mother who struggled to make ends meet, Congressman Labrador was taught not to envy the success or covet the wealth of the prosperous. Instead, his mother encouraged him to aspire to become a successful person to create a life better than the one he had. In today's speech, Congressman Labrador said, "If my mother would have had the same mentality the other side has, I would have never been able to amount to anything in my life, because what they believe is the only way you can actually amount to something is if you take from the ones who have if you are a have-not." Video of speech here.
Question: How did your mother help you get a good start in life?
---
---