Thu., March 29, 2012, 8:12 a.m.
ObamaCare Arguments Conclude
Whether the U.S. Supreme Court will uphold President Obama's landmark healthcare overhaul or scrap at least the most controversial part — the requirement that most Americans have health insurance — won't be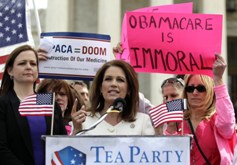 known until probably this summer, when the justices are expected to rule. But after three days of oral arguments concluded this week, four constitutional law experts weighed in on the strengths and weaknesses of the cases made by the administration's top lawyers, Solicitor Gen. Donald Verrilli Jr. and his deputy, Edwin Kneedler, and Paul D. Clement, solicitor general in the George W. Bush administration, who represents the 26 states challenging the 2010 Patient Protection and Affordable Care Act/Carol J. Williams, Los Angeles Times. More here. (AP photo: Rep. Michele Bachmann, R-Minn., center, speaks against ObamaCare in front of the Supreme Court in Washington, Wednesday)
Prediction?
---
---