FRIDAY, MARCH 30, 2012, 1:38 P.M.
Spokane To Discuss Gay Marriage
The debate on gay marriage is headed to the Spokane City Council. City Councilman Jon Snyder is sponsoring a nonbinding resolution in support of "marriage equality," and despite a Republican-leaning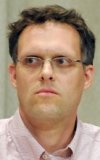 majority on the City Council, it appears the resolution is on track for approval. "People need to understand that this is not a Seattle or West Side issue," Snyder said. "We have gay and lesbian citizens all across Washington and a lot of them see Spokane as a place where they can make their home." Spokane City Councilman Mike Allen, a Republican precinct committee officer, said he likely will support Snyder's resolution. "The Constitution says all are created equal," Allen said. "I don't know how you could do a 'separate but equal' in this particular category"/Jonathan Brunt, SR. More here.
Question: Is "marriage equality" an issue that you would want to see the Coeur d'Alene/Post Falls/Hayden/Rathrdum city council take a stand on?
---
---