Fri., March 30, 2012, 8:18 a.m.
Tuber Tour 2012 Begins Today
Call it Tuber Tour 2012. The Idaho Potato Commission is commemorating its 75th anniversary and hoping to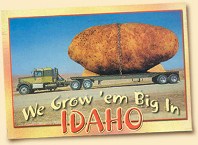 dispel some bad press for potatoes by taking a lifelike, six-ton spud on a seven-month, 32-state tour. The Big Idaho Potato departs the state Capitol this morning with a ribbon-cutting ceremony by Gov. Butch Otter. The building-size potato that was first seen at the Famous Idaho Potato Bowl will be making stops that include Chicago, New York, Washington, Denver and Los Angeles. The Idaho Statesman reports that one stop will be outside the U.S. Department of Agriculture, where officials last year questioned whether potatoes should be included in school lunches and banned it from the food stamp program/AP. More here. (Courtesy: Famous Idaho Potato Tour Web site)
Question: Will a seven-month, 32-state tour involving a 6-ton potato help or hurt Idaho's image in this country?
---
---