Fri., March 30, 2012, 9:13 a.m.
Winkler Seeks Bonner Sheriff Post
He has been an Aryan Nations member and Ku Klux Klan leader, and now Shaun Winkler wants to be the sheriff in a rural Idaho county near the Canadian border. The white power activist is running as a Republican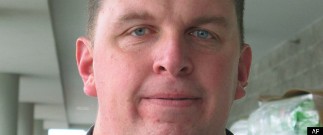 in the May 15 Bonner County primary to become the top law enforcement officer. Winkler said despite the white supremacist beliefs he holds as a KKK imperial wizard, his brand of justice would be color blind. "In the event I was elected sheriff, I would not act on racial profiling," Winkler said. "Being in the white power movement, I know how it feels to be profiled by law enforcement." Rather, Winkler is running on a platform that includes coming down hard on sex offenders and meth manufacturers, and reducing the impact of federal law enforcement at the county level/Nicholas K. Geranios, AP. More here.
Question: Is it worth getting worked up about Winkler's candidacy since he has little chance to win in Tea Party-influenced Bonner County?
---
---