Tue., May 1, 2012, 12:23 p.m.
Jorgenson Signs GOP Principle Pledge
Republican Mike Jorgenson, pictured, today signed the "Republican Principle Pledge," an integrity pledge to the people of Legislative District 2. He has called upon his fellow candidates to join as co-sponsors. The petition calls for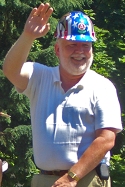 a return to the basic Republican values Idahoans had previously come to expect from their northern Idaho candidates for the Legislature before the election of tax scofflaw Phil Hart. "I believe the Republican Party stands for integrity, honesty, trust and respect in the rule of law. Every Idahoan knows it is his own personal responsibility to carry his own water and we Republicans value the Code of the West. Phil Hart can no longer pretend to uphold this public trust and therefore no longer deserves the right to represent the people of District 2." Tuesday, Mike Jorgenson will mail a copy of the pledge to all the Republican candidates in District 2/Jorgenson campaign news release.
Question: Should Legislative District 2 candidates sign the "Principle Pledge"?
---
---