Wed., May 2, 2012, 4:02 p.m.
Judge Tosses Camp Easton Sale Suit
A Kootenai County judge on Wednesday ruled against legal challenges by area Boy Scouts and their supporters to halt the proposed sale of Camp Easton to a North Idaho development company. District Court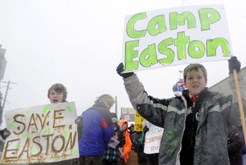 Judge John Patrick Luster on Wednesday denied efforts by a group calling itself Camp Easton Forever to halt a possible sale of the camp, which has been used since 1929 as a summer camp for regional Boy Scouts. Last year the Inland Northwest Council of the Boy Scouts — which governs the camp and regional scouting — described plans to swap the 383 acres at Camp Easton for a new camp along Sunup Bay on the west shore of Lake Coeur d'Alene. Opponents have rallied widespread opposition to the planned sale and swap, saying Camp Easton, on the lake's eastern shore, is a unique site and too valuable to sell/Tom Sowa, SR. More here. And: Copy of Judge Luster's findings here. (SR file photo: Joe Farrell, 12, center, and Kris Blackwell, 12, hold signs outside the Boy Scout headquarters in Spokane Feb. 24 in protest of selling Camp Easton)
Thoughts?
---
---