Thu., May 3, 2012, 10:27 a.m.
Mary: Recallers Down But Not Out
In her latest newsletter, Mary Souza of OpenCDA.com claims that RecallCDA is more than halfway to the goal of getting signatures needed to trigger a recall election involving Mayor Sandi Bloem and council members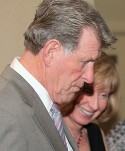 Deanna Goodlander, Woody McEvers and Mike Kennedy. But Mary sounds a bit desperate: "The Recall effort may be down but we are NOT OUT! We are already beyond the halfway point in both time and signatures, but we need to ramp it up and kick into high gear. Will you help? I'm serious." Then, she claims that the Coeur d'Alene Press has turned against the Recallers (although I believe the Press has been extremely fair re: coverage of this divisive issue): "The Press is teetering on the brink of insanity, with overly dramatic headlines nearly every day. Reporter Tom Hasslinger has morphed from a nice guy into a pit bull looking for blood, no accuracy or accountability required." She goes on to say that Hasslinger has "hounded" Recall leader Frank Orzell several times each day, showed up at his house unannounced and even threatened him, saying "The road is going to get very rough for you…" And you want Mary's friends on the council to pick the next mayor and 2 City Council members? Tsk. Tsk. Full newsletter here. (Phantom Photographer photo: Mary hanging with Gov. Otter at Post Falls Pachyderms Unity dinner)
Question: Isn't the Recall effort in big-time trouble if it is only halfway (Mary's claim not mine) to the signature goal at this point? Shouldn't the first 1000-2000 signatures be the easiest to get?
---
---