Thu., May 3, 2012, 12:40 p.m.
News Quiz Offers Shock Tickets, More
If it's Monday, it must be time for a new current-events quiz. Simply by participating this week, you'll be eligible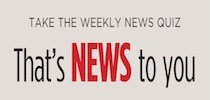 for three random drawings for Spokane Shock football tickets. And if you finish at the top of the leaderboard, a $50 Davenport Hotel gift card could be yours. Good luck! Last week's winners: Thomas Fricks of Veradale (gift card) and John Owen of Spokane Valley (Regal Cinemas movie tickets). This week's News Quiz here.
DFO: Only 3 Berry Pickers on the leaderboard so far this week: Lolo, Duffer & KCres.
---
---