A woman walking her dog along the Spokane River Thursday morning was fatally stabbed in what appears to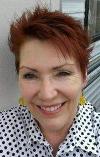 have been a random attack. The victim's daughter identified the woman as 55-year-old Sharlotte McGill. McGill suffered multiple stab wounds to her upper body shortly after 8 a.m. in the area of 1800 E. South Riverton Avenue and was rushed to a local hospital, according to the Spokane Police Department. Police reported around 2 p.m. that she had died. The attacker remained on the loose Thursday night. Police have not identified a suspect or a motive. McGill's daughter, Billie McKinney, logged on to her mother's Facebook account Thursday evening and posted a message to friends and family/Chelsea Bannach, SR. More here.
Question: Are you careful when out walking or jogging alone?