SATURDAY, MAY 5, 2012, 12:50 A.M.
One Too Many Reagan Repub Groups?
Item: Name's the same: Reagan Republicans feel like victims of 'identity theft'/David Cole, Coeur d'Alene Press
A Berry Picker emails: "I heard some scuttlebutt about the (Reagan Republicans) being under investigation. It looks like they didn't register with the Secretary of State's office and now someone else has registered/hijacked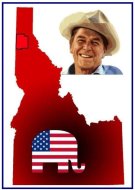 the name Reagan Republicans and a bunch of related names. They were all atwitter about it over at Chuckleberries and posted a link to the SOS site. I checked it out and it looks like there's no Ron Lahr or Jeff Ward listed on there. ... I've never heard of the guy who registered all these names, but it looks like Republican politics is getting weirder by the minute." Hayden attorney Scott Poorman, representing the Kootenai County Reagan Republicans and Clifford Noll, has sent Jeff Ward and Ron Lahr a letter demanding that they cease using the name Kootenai County Reagan Republicans "for any purpose whatsoever." The letter is posted on the Chuckleberries Online Web site here. Another Berry Picker emailed Huckleberries: "This has turned into a war it would appear." Chuckleberries supports United Conservatives of North Idaho, an arch rival of the Ward/Lahr Reagan Republicans. Or whatever they're calling themselves now.
Question: What do you think is going on here?
---
---