Mon., May 7, 2012, 2:48 p.m.
Lahr Tells RR Followers Not To Worry
Ron Lahr, president of the Kootenai Count Reagan Republicans, posted the following message to followers today: "Please do not be discouraged by the pitiful attempt to steal the Kootenai County Reagan Republican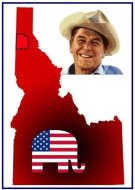 name and trademark. Competent legal counsel has advised us that we alone have the rights of ownership of the name and their threats are without standing. We are well within our rights to use our own name. Please continue to use the Reagan Republicans names, trademark and endorsements on your own literature and feel free distribute any literature printed by the Reagan Republican Victory Fund. This is just a dirty political trick and an indication that they now believe they cannot beat us fairly so they must desperately resort to lying, cheating and stealing. They are in the wrong party for that.
Thoughts?
---
---