Tue., May 8, 2012, 3:27 p.m.
Democrat Nesse Challenges Sims
For those wondering if there is an alternative this year to state Rep. Kathy Sims, R-Coeur d'Alene, who is busy trying to overthrow Coeur d'Alene city government. The answer is no and yes. Not in the GOPrimary. But Anne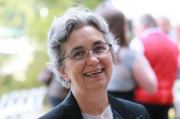 L. Nesse of 854 Victoria is a Democrat who will challenge Sims in the general election. I found this information about Nesse @ www.annenesse.org: "I've watched for some time as our state legislature has become less representative of Idaho's voters. I pledge to represent people from "all walks of life," including youth, professionals, workers, and retired citizens. I will not represent only special interest groups. Our family moved here about 18 years ago from rural Oregon in 1994. We have loved the environment of Coeur d'Alene ever since. My employment history includes a wide background in health care, education, research, and small-business. I have a bachelor of science degree in nursing, a bachelor of arts in psychology, and a teaching certificate in elementary education, as well as in music grades K-12. I would like to apply my experiences and higher education to represent each of you fairly." More here.
Question: Should everyone who opposes Kathy Sims' attempted recall of Mayor Bloem & 4 council members, whether Democrat or Republican, support Nesse?
---
---