Wed., May 9, 2012, 1:45 p.m.
Johnson: GOP's Ever Rightward March
Harry Truman famously said, "If you want a friend in Washington, get a dog." I'll offer the Johnson Corollary to Truman's great one liner: "in politics, it is almost always your friends who cause you trouble." Most every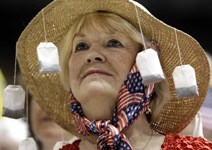 politician I have known has a very good idea from which direction the partisan opposition will attack. It's the onslaught from friends that is harder to anticipate and even more difficult to combat. From Idaho to Indiana today, the Republican Party is in full revolt against itself and the soldiers in this war of the friends – faintly moderate Republicans battling really, really conservative Republicans – are in full battle gear. The most recent purge of the "moderates" claimed its latest victim yesterday when 36-year Indiana Sen. Richard Lugar lost by 20 points in a GOP primary. Lugar, 80-years old, and portrayed as a squishy bipartisan moderate, was retired by the same type of voter who will next week take the Idaho GOP in an ever more rightward direction/Marc Johnson, The Johnson Report. More here.
Question: Can the Tea Party survive without moderate Republican votes?
---
---