Wed., May 9, 2012, 5:25 p.m.
Stan & Kyle's Excellent Adventure
The latest installment of Joker Tales: Stan was busy playing Call of Duty 3 on his X-Box 360 when he heard a knock on his bedroom door. "Yo, come in." It was Kyle, a lifelong buddy since grade school. "Man, what are you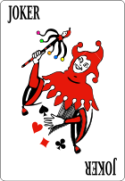 doing here? Frank is looking all over town for you?" Kyle said. "You're supposed to be getting signatures. He's going to be pissed." Stan shook his head. "I know man. He's been calling for the last two hours. Thank God he doesn't know how to text. I've only got five today. I met a creepy homeless dude at the Citylink stop near the Kroc Center. He signed it Lord Emperor of Pangea." Kyle laughed and picked up a controller and started to play. "Dude, I thought you were still on suspension," Stan chirped over the machine gun fire coming from his TV. "Kyle, are you kidding me. Suspension? These guys are so desperate. They only docked me an hour's pay. I promised to do better." Stan grinned and said, "I heard you on that tape. You sounded like a total tool. What do you know about property taxes anyway?" More here.
Thoughts?
---
---