Wed., May 9, 2012, 8:36 a.m.
Wannabe Sheriff Hosts Cross Burning
It's unlikely that any other Bonner County sheriff candidate spent their Friday night like Shaun Winkler. At his compound just outside Priest River, Winkler and other family members of the northern Idaho Ku Klux Klan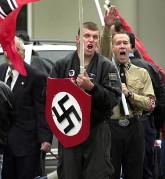 lavern held a get-together that included a nighttime cross lighting. Winkler, 33, is also tied to the Aryan Nations and Church of Jesus Christ-Christian. He has participated in racially-charged Kootenai County protests. According to Winkler, cross lighting, more commonly known as cross burning, often provokes strong reactions from most people. Given that fact, the ceremony is generally conducted in private within the compound once a month or so. "Generally, for a cross lighting, it's extremely rare we'd let any media there at all," he said. However, after discussing the matter with his family and associates, the group agreed to allow outside observation for the ceremony. Winkler said the evening was meant to express both camaraderie and religious devotion/Cameron Rasmusson, Bonner County Bee. More here. (SR 2004 file photo of Shaun Winkler, center)
Thoughts?
---
---