Thu., May 10, 2012, 1:35 p.m.
Facebook Helps Catch A Thief
Here's a tip: When you steal something, don't post a picture of yourself on Facebook with the stolen item. Especially when that item is a 70-pound, fiberglass cow that's a local icon and has been the subject of news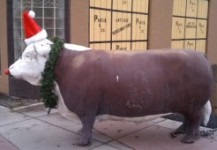 stories. "It's back home," said Tracy Gagnon, owner of the antique, brown and white cow that was stolen April 27 from the front of the Paris Flea Market, 1815 N. Fourth St. The cow was recovered by police on a porch near Fourth Street and Coeur d'Alene Avenue on Wednesday morning. Police were tipped off by a caller, whose daughter saw photos of the suspect posing with the cow on his Facebook account. Detectives found the cow partially hidden under a blanket. Brandon M. Hiza, 23, Coeur d'Alene, was arrested for grand theft, a felony, and was being held without bond in Kootenai County jail. His first court appearance is scheduled today/Bill Buley, Coeur d'Alene Press. More here.
Question: Have you ever posted something on Facebook that you wished you hadn't?
---
---