Paul Camp Condemns Idaho Scheme
Ron Paul's presidential campaign manager, John Tate, on Thursday condemned the effort by Paul supporters to take over the Idaho Republican convention by capturing precinct committeeman posts in Tuesday's primary.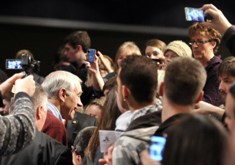 Tate said the activity in Idaho — following a binding caucus that gave Mitt Romney 62 percent of the vote among 45,000 GOP voters — is not in keeping with the Paul campaign's practice of chasing delegates in other states with non-binding "beauty contests." "In Idaho, isolated instances of grassroots activists working toward an ostensible 'hostile takeover' of the GOP are not sanctioned by the Ron Paul national campaign," Tate said in a news release that came four days after an Idaho Statesman account of an effort led by Ryan Davidson, an Ada County GOP Central Committee member/Dan Popkey, Idaho Statesman. More here. (SR file photo: Ron Paul works the crowd at the front of the ballroom at the Spokane Convention Center Feb. 17)
Thoughts?
---
---