Mon., May 14, 2012, 8:27 a.m.
Tutu To Zag Grads: Keep Dreaming
Archbishop Desmond Tutu brought his message of social justice and equality to Gonzaga University's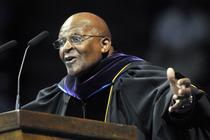 graduation ceremony Sunday, urging students to dream dreams that could change the world. Tutu, a central figure in South Africa's fight against apartheid, has scaled back public appearances in recent years, but said he accepted Gonzaga's invitation because he remains inspired by the idealism of the young. "I have to tell you, I can't resist young people," said the 80-year-old Tutu, a Nobel Prize winner and retired Anglican archbishop of Cape Town. "They are some of the most incredible creatures in God's creation." Student activism during the 1980s helped pressure the United States to divest in South Africa, which eventually toppled the racist government and led to democratic elections/Becky Kramer, SR. More here. (SR photo)
Question: Is today's youth more politically active than the ones of your g-g-generation?
---
---