Tue., May 29, 2012, 8:13 a.m.
Ganesha Artwork Leaving Downtown
At 8 a.m. Friday, Ganesha will come down. The five-foot statue of the Hindu God, who earned some criticism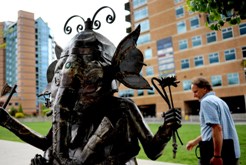 for its apparently un-American and un-Christian ways, will leave its spot on the corner of Sixth Street and Sherman Avenue and head to an art studio in Spokane. It its place will be a 7-foot statue called "Art and Soul." It's a creation by local artist Jason Sanchez, and one could describe the futuristic machine as something that stepped out of a Terminator movie. "We got some unusual ones," said Joseph Sharnetsky, Arts Commission member, on this incoming crop of artistic creations - which he described as "more abstract, more colorful and more unusual" than the current fleet. "It's a little different than last year"/Tom Hasslinger, Coeur d'Alene Press. More here. (Kathy Plonka SR file photo)
Question: Do you enjoy the public arts display in downtown Coeur d'Alene this past year?
---
---