Wed., May 30, 2012, 9:56 a.m.
Richert: Five Wives Meet Nanny State
The state of Idaho has poured Five Wives Vodka a shot of free publicity. Not that Ogden's Own Distillery is in an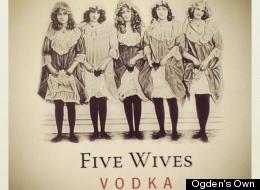 ideal position to cash in. The Utah-produced vodka is essentially a controlled substance in Idaho, where the rules of private enterprise govern nearly every sector of commerce, save for booze. Five Wives has been banned from the shelves of Idaho's state-run liquor stores — because the brand name, and its too-tepid-to-be-edgy reference to polygamy, may be offensive to Idaho Mormons. Never mind that practicing Mormons aren't supposed to frequent a liquor store. (Not to put to sharp a point on it, but that's the truth)/Kevin Richert, Idaho Statesman. More here.
Question: Will you toast Kevin's column with a Five Wives Vodka Black Russian?
---
---