Thu., May 31, 2012, 12:10 p.m.
Snake Handling Pastor Dies From Bite
A "serpent-handling" West Virginia pastor died after his rattlesnake bit him during a church ritual, just as the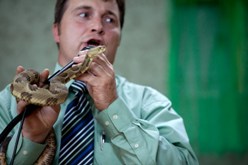 man had apparently watched a snake kill his father years before. Pentecostal pastor Mark Wolford, 44, hosted an outdoor service at the Panther Wildlife Management Area in West Virginia Sunday, which he touted on his Facebook page prior to the event. "I am looking for a great time this Sunday," Wolford wrote May 22, according to the Washington Post. "It is going to be a homecoming like the old days. Good 'ole raised in the holler or mountain ridge running, Holy Ghost-filled speaking-in-tongues sign believers." Robin Vanover, Wolford's sister, told the Washington Post that 30 minutes into the outdoor service, Wolford passed around a poisonous timber rattlesnake, which eventually bit him/ABC News. More here. (AP/Washington Post photo: In this Sept. 2, 2011 photo, Pastor Mack Wolford handles a rattlesnake in Jolo, W. Va.)
Question: Do you have Pentecostal roots in your religious background?
---
---