Thu., May 31, 2012, 10:31 a.m.
Solar Energy Works In Lake City
When Anne Nesse decided to utilize the sun's power and switch out traditional heat sources for her Coeur d'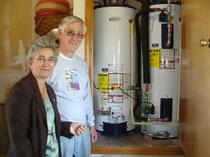 Alene home, she was shocked to find that the failing furnace could lead to a substantial savings. "We researched different kinds of renewable energy sources and were pleased with solar tubes' results," says Anne, an energetic retiree who is currently running for state representative for Idaho District 4B, where she says that she likes to lead by example. She and her husband, Rolf, were also surprised to find that theirs would be Coeur d'Alene's first home to be fitted with solar tubes. It all started last year when the Nesses sought a renewable heat source for their 2,400-square-foot home, which they built in 1994. Anne found a type of solar tube that worked well in a colder northwest climate/Jean Arthur, SR Down to Earth. More here.
DFO: For those keeping score at home, Anne Nesse is the Democrat running against state Rep. Kathy Sims, R-OpenCDA.com, in Coeur d'Alene's House District 4.
Question: Do you live in an energy efficient house?
---
---