Thu., Nov. 1, 2012, 5:01 p.m.
CPD Seeks Female Car Burglar
Coeur d'Alene Police detectives are seeking the identity of a female that is the suspect in an auto burglary. The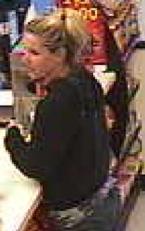 burglary occurred between 6 and 7:15 p.m. at the base of Tubbs Hill, 615 S. 10th St. The owner of the vehicle reported her vehicle was entered while she was taking a hike on Tubbs Hill. When the victim returned to her vehicle her wallet was missing. The victim thought her vehicle, a Landcrusier, was left locked but there was no sign of forced entry. She was contacted later that evening by her bank and found out her bank card and credit cards were used between 6-6:30 p.m. at Zip Trip, 15th and Best, at Office Depot and at a US Bank ATM. Cash was withdrawn from a Zip Trip ATM and also from a US Bank ATM. The female suspect was captured on video surveillance entering the Zip Trip. Her vehicle was also captured on video while it was parked outside. If anyone has any information about the identify of this female they are asked to call Coeur d'Alene Police at 769-2320 or Police Tips at 208-769-2296 or email to policetips@cdaid.org. More photos here.
---
---