Thu., Nov. 1, 2012, 1:15 p.m.
Hagadone Gave To Secret Group
Amid a campaign secrecy dustup, millionaire Idaho businessman Duane Hagadone (pictured) took back money from a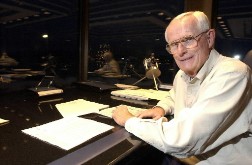 group that was reporting it publicly and gave it to another that fought to keep its donors hidden. On Aug. 6, Hagadone gave $15,000 to Yes for Education, a political action committee campaigning to preserve public schools chief Tom Luna's education overhaul at the ballot box Nov. 6. On Aug. 14, the PAC returned Hagadone's $15,000, according to records filed with the Idaho secretary of state's office. Weeks later, on Sept. 24, he gave $15,000 to Education Voters of Idaho, a group that sought to keep its contributors secret but was forced by a judge Wednesday to reveal financiers, including Hagadone/AP via Eye on Boise. More here. (SR file photo)
Thoughts?
---
---